Sea buckthorn mulled wine 250 ml
Sea buckthorn mulled wine 250 ml
Buckthorn & Mahlaglögi made from domestic finish berries and birch sap from Ostrobothnia.
Tyrni & Mahlaglögi were received the award "Artisaanruua open in the SM competition" in 2018.
This glögi got gold in the category "Other non-alcoholic beverages".

Granholm's
Granholm's is a family business that was founded in 1989. Granholm's jams and marmalades are produced from tomatoes, apples, various forest berries and cultured berries grown pure and natural.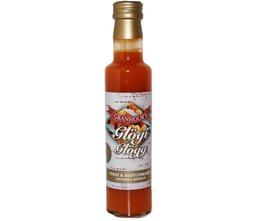 Sea buckthorn mulled wine 250 ml
6.00

 €

6.00

 €
VAT Included
6.00

 €
VAT Included