Sauna Soaps 225g
The real and genuine Finnish Sauna soap!
In Finland we have used this popular lathery, long lasting soap for more than 50 years.
The scents are the ones you remember from the delightful summer days of your childhood:
– fresh pine (green)
– soft birch (yellow)
– romantic lilac (white)

The Sauna Soap is 225g, with or without a rope.

Vaasan Saippua Oy
Soap
Vasa Tvål
Other soap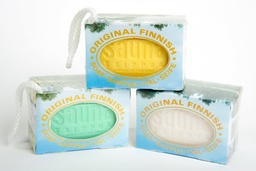 Sauna Soaps 225g
5.25

 €

5.25

 €
VAT Included
5.25

 €
VAT Included