Bock's Eridanos

A different kind of water.
Introducing Bock's Eridanos, a refreshing and naturally sparkling mineral water sourced from the underground Eridanus River, located south of Vaasa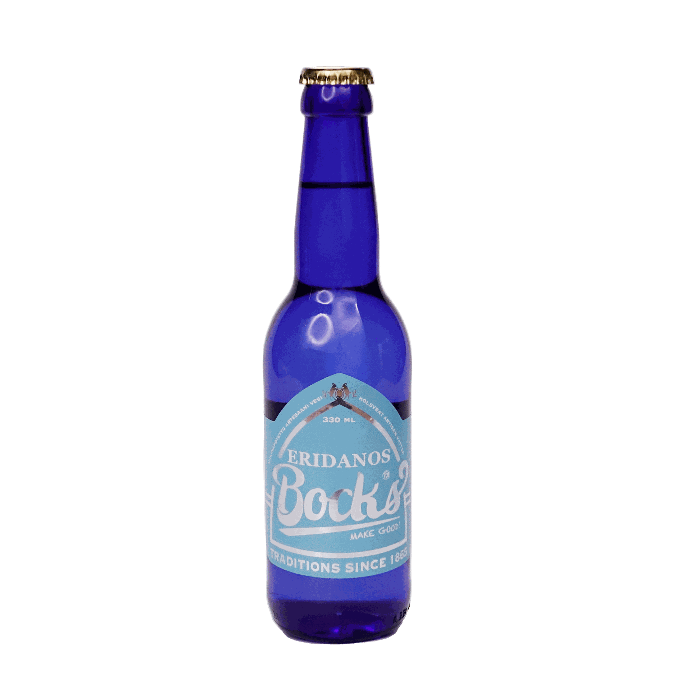 Bock's Eridanos
A different kind of water
Introducing Bock's Eridanos, a refreshing and naturally sparkling mineral water sourced from the underground Eridanus River, located south of Vaasa. Our commitment to quality and purity extends beyond our exceptional beers, and Bock's Eridanos embodies that dedication in every drop.
The Eridanus River, steeped in myth and history, is said to be named after the ancient Greek river of the same name. This pristine water source provides the ideal foundation for a crisp and invigorating mineral water that captures the essence of the Scandinavian landscape.

Bock's Eridanos is carefully extracted and bottled, ensuring that the natural effervescence and mineral content remain unaltered. This results in a sparkling mineral water that boasts a delicate balance of taste and texture, with a clean and crisp finish that leaves you feeling refreshed and revitalized.

Perfect for enjoying on its own, as a palate cleanser between meals, or as a mixer in your favorite cocktails, Bock's Eridanos is a versatile and sophisticated beverage that complements a wide range of occasions and settings. With its elegant packaging and commitment to sustainability, Bock's Eridanos is a responsible and stylish choice for those who appreciate the finer things in life.

Experience the purity, clarity, and invigorating taste of Bock's Eridanos, and let the waters of the legendary Eridanus River transport you to a world of unparalleled refreshment.